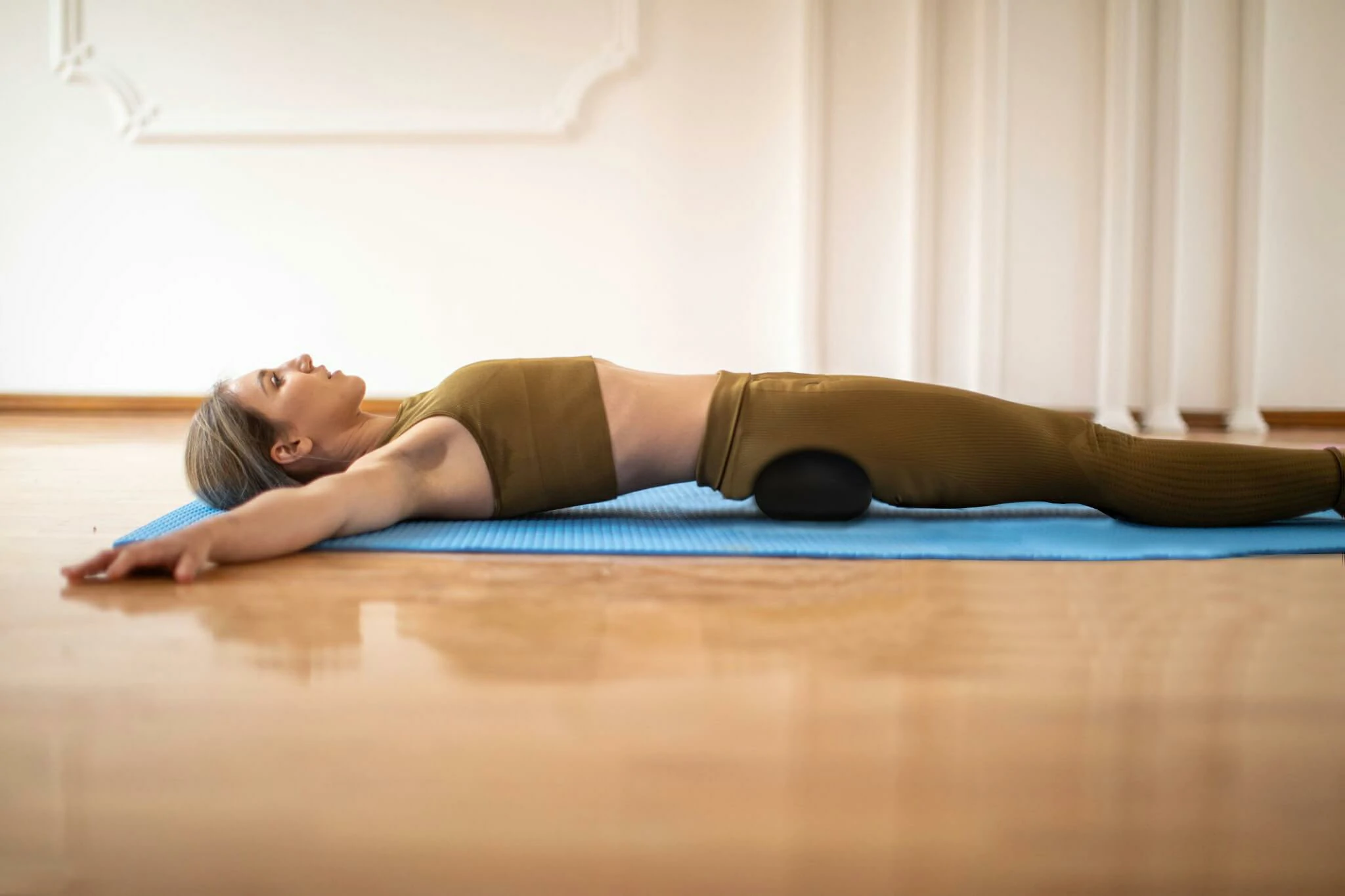 Easiest Massage Pose
When you lie flat on the Acu-hump sciatica massager, it helps you to self-massage your lower back to the piriformis muscles
Time: 2 times a day, 5-10 minutes or less for each part
Applicable parts: upper back, lower back, hip, buttock
Sequence: gradually move down from the lower back to hip
Acupressure: when a sciatica stretcher encounters a tight muscle, the pain will be more intense as it breaks the muscle knots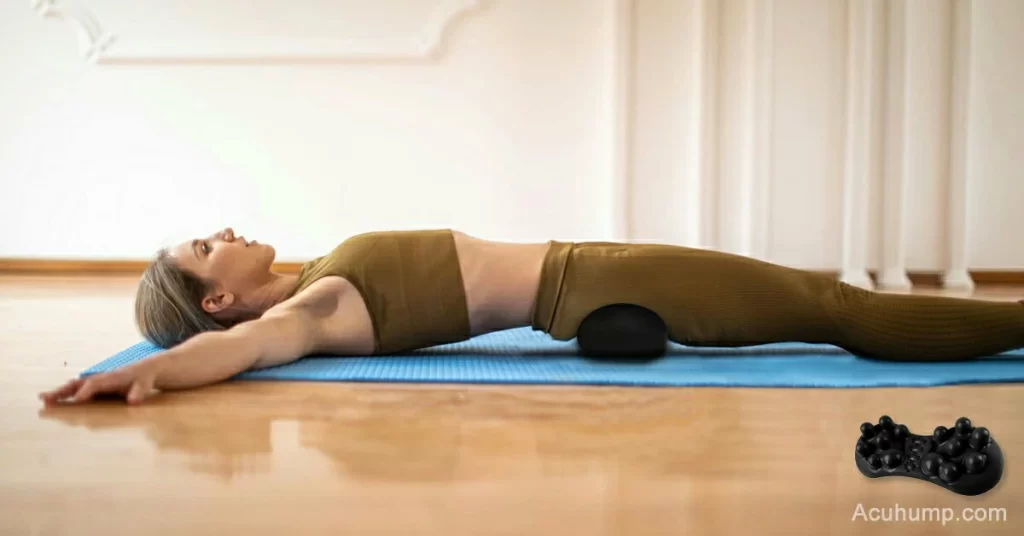 Adjust The Intensity
Strong force helps relieve issues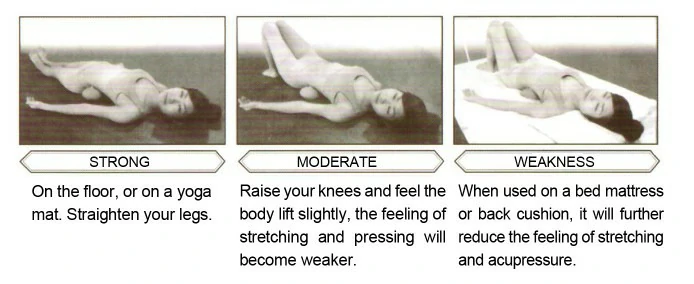 Easiest Stretches Pose
Step 1: Lie flat on a hard surface, not on a soft bed
Step 2: Put the sciatica stretcher under your lower body
Step 3: Bring your legs together and bend
Step 4: Simultaneously swing your leg toward the ground on the right-hand side, as close to the ground as possible. Hold the position at your limit for 15 seconds, then turn in the opposite direction
Step 5: Loop this set for 2 minutes per round
Time: 2 times a day, 2 minutes for each part
Applicable parts: lower back, hip, buttock
Sequence: gradually move down from the lumbar to the hip
Acupressure: when a sciatica stretcher encounters a tight muscle, the pain will be more intense as it breaks the muscle knots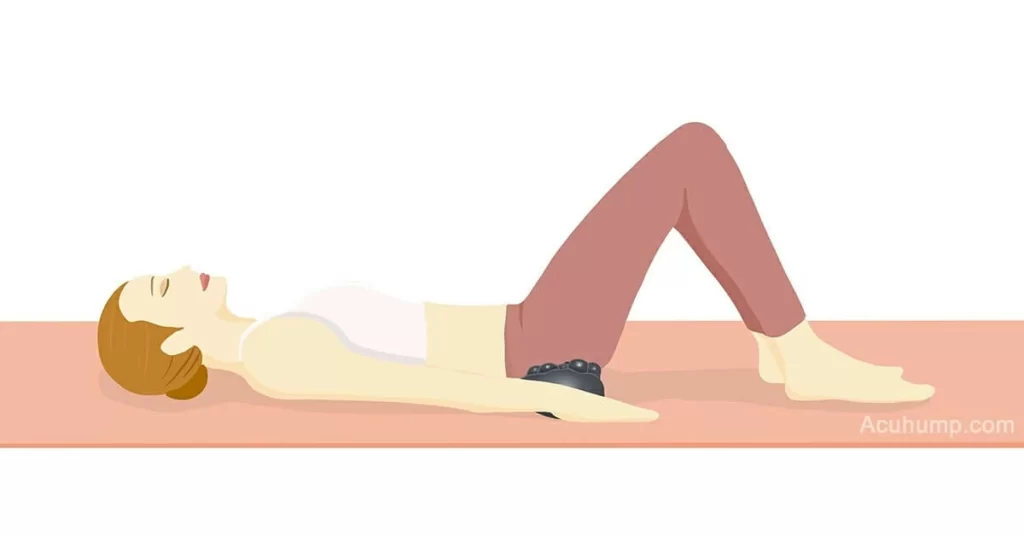 Area-specific Massage and Stretch Exercises
Massage And Stretch Your Lower Back Quadratus Lumborum
Massage And Stretch Your Lower Back Quadratus Lumborum
Step 1: Lie flat on a hard surface for enough pressure
Step 2: Put the Acu-hump massage stretcher under your lower back, and the high side of Acu-hump is close to the head
Step 3: Bring your legs together and bend
Step 4: Simultaneously swing your leg toward the ground on the right-hand side, as close to the ground as possible. Hold the position at your limit for 15 seconds, then turn in the opposite direction
Step 5: Continue to swing for 2 minutes, straighten the leg and rest for 1 minute, then stretch for 2 minutes
Time: 2times a day, 5minutes per round
Applicable parts: lower back, quadratus lumborum, thoracolumbar fascia
Acupressure: when the sciatica stretcher encounters a tight muscle, the pain will be more intense as it breaks the muscle knots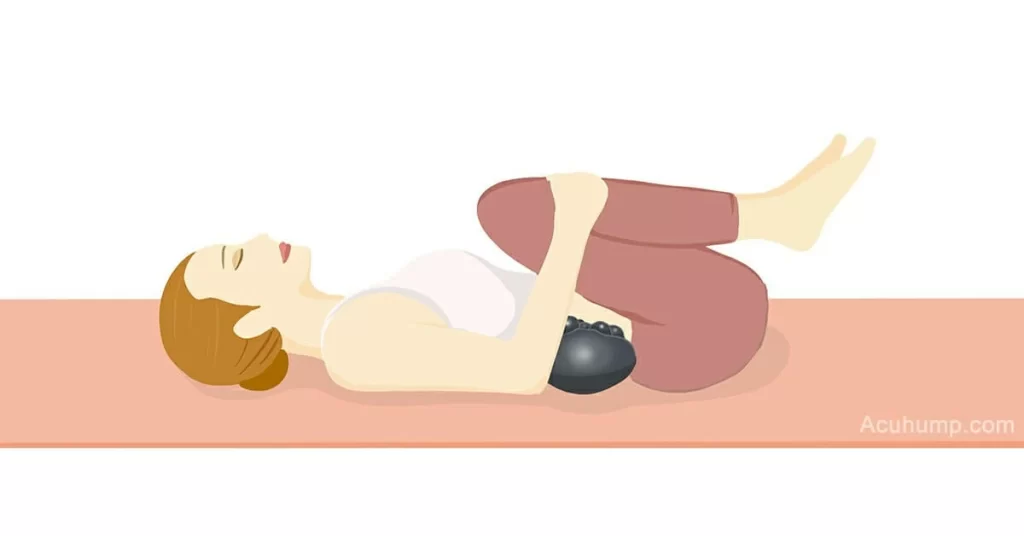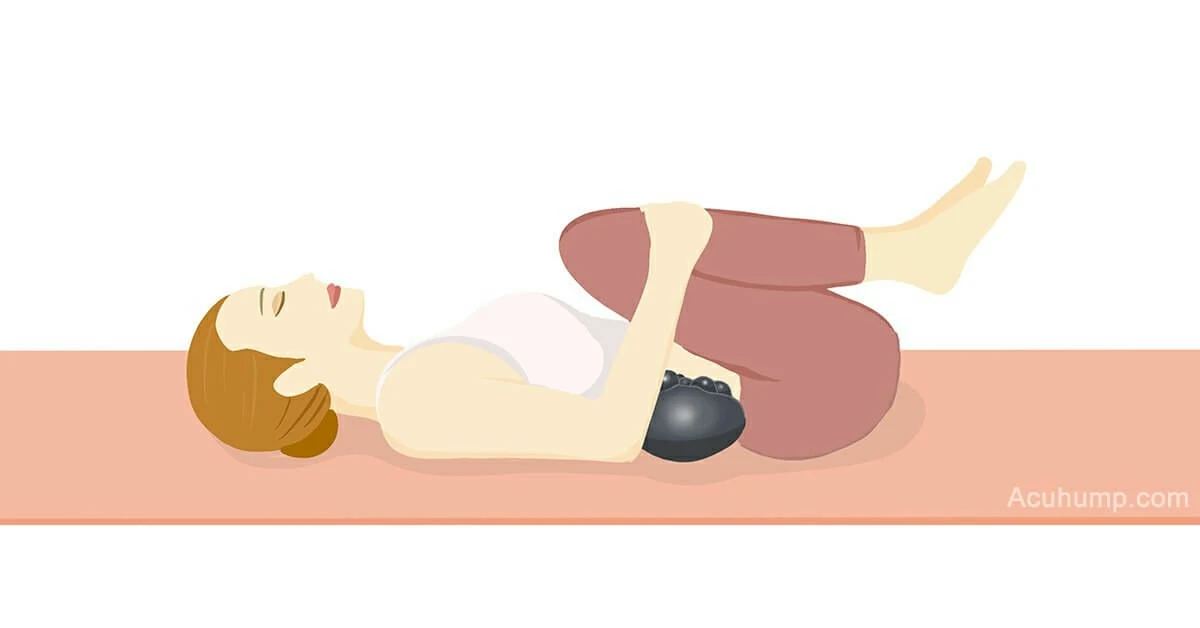 Adjust Your Lumbar Spine And Massage Your Lower Back
Step 1: Lie flat on a hard surface for enough pressure
Step 2: Put the Acu-hump massage stretcher under your spine, and the high side of Acu-hump is close to the head
Step 3: Hug your legs to your chest, hold for 30s
Step 4: Release your hands and straighten your legs, hold for 30s
Step 5: Repeat step 3 and step 4
Time: 2 times a day, 5 minutes per round
Help for: Bulging disc, Herniated Disc, Sciatica Pain, Cauda Equina Syndrome
Acupressure: when the sciatica stretcher encounters a tight muscle, the pain will be more intense as it breaks the muscle knots
Sacroiliac Joint Pain Exercises
Step 1: Lie flat on a hard surface for enough pressure
Step 2: Put the Acu-hump massage stretcher under your SI joints, and the high side of Acu-hump is close to the head
Step 3: Bend your legs, the distance between the knees is slightly wider than the shoulders
Step 4: Holding the left leg still, slowly swing the right leg close to the ground. After holding for 15 seconds, retract the right leg
Step 5: Change legs and repeat step 4
Time: 2 times a day, 5 minutes per round
Help for: Sacroiliac Joint Dysfunction, Pubic Symphysis
Acupressure: when the sciatica stretcher encounters a tight muscle, the pain will be more intense as it breaks the muscle knots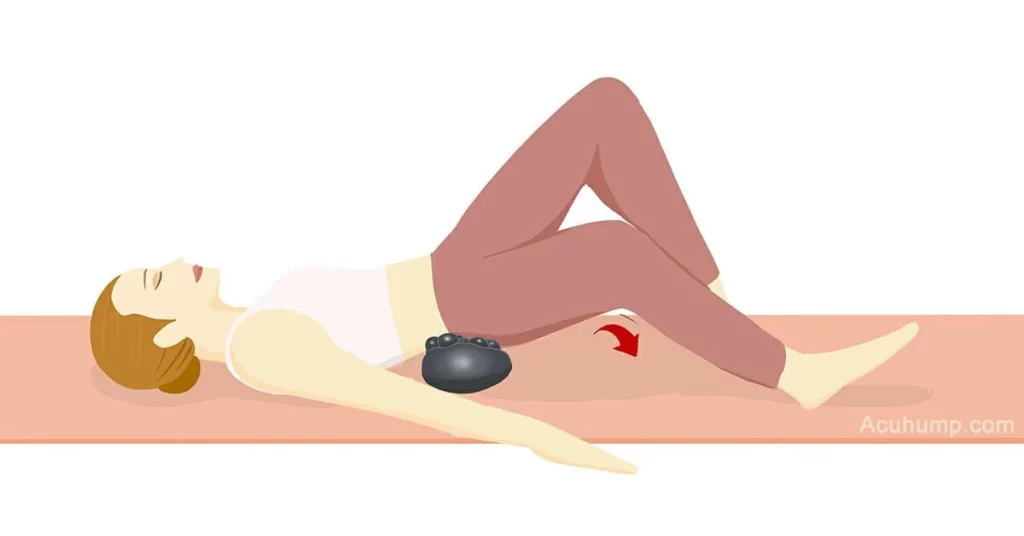 Massage Hip & Stretch Hip Flexor
Step 1: Consult a therapist before exercising
Step 2: Put the Acu-hump massage stretcher under your upper buttock/lower back, and the high side of the Acu-hump is close to the head
Step 3: Straighten your right leg and keep it still
Step 4: Bend your left leg as hard as you can, and hold it in front of your chest for 30 seconds
Step 5: Repeat step 3 and step 4
Time: 2 times a day, 5 minutes per round
Help for: Lower Back Pain, Hip Pain, Hip Flexor Pain, Psoas Tension
Acupressure: when the sciatica stretcher encounters a tight muscle, the pain will be more intense as it breaks the muscle knots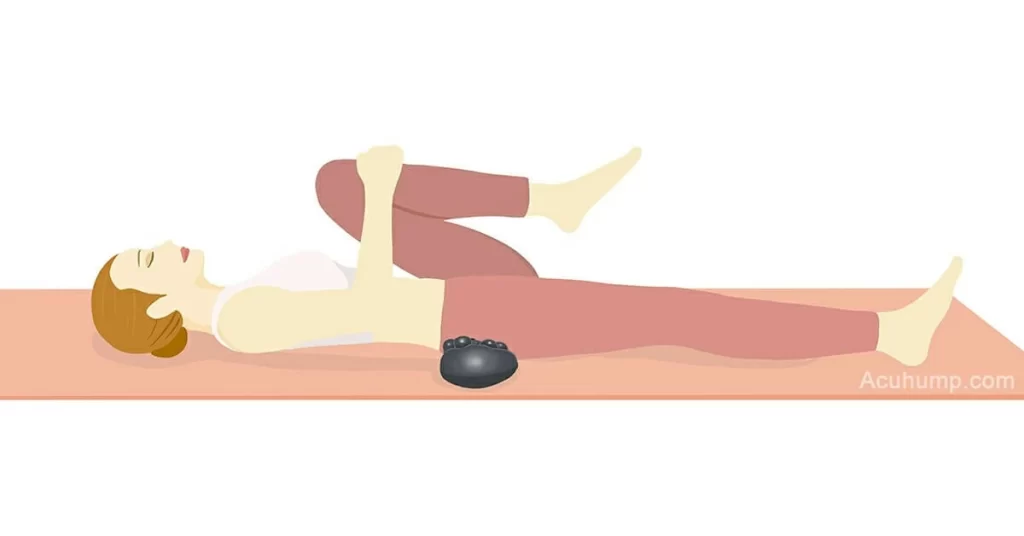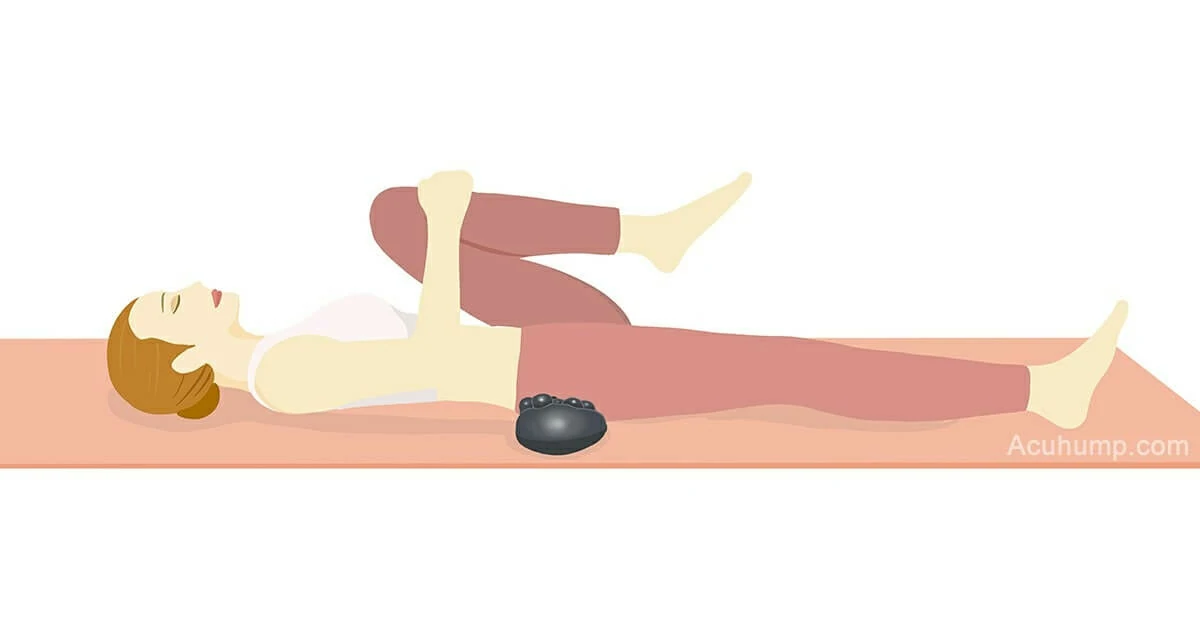 Best Piriformis Massager For Piriformis Syndrome Relief
Acu-hump sciatica stretcher is the best piriformis massager.
Step 1: Lying down, on the hard surface not a soft bed
Step 2: Put the Acu-hump piriformis massager under your buttock, and the high side of the Acu-hump is close to the feet
Step 3: Cross your legs like the picture, keep your butt on the sciatica stretcher the whole time and hold the position for 30 seconds. People older than 40 years old should hold the position for 60 seconds
Step 4: Swap legs to do step 3, and repeat 3-4 times
Time: 2 times a day, 5 minutes per round
Help for: Piriformis Syndrome, Sciatica due to Piriformis Compression
Acupressure: when the piriformis stretcher encounters a tight muscle, the pain will be more intense as it breaks the muscle knots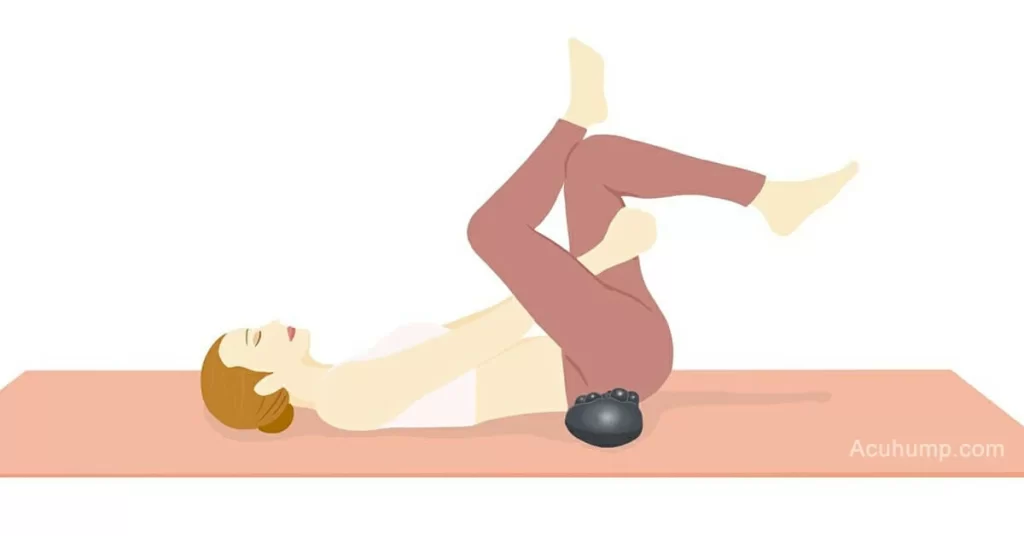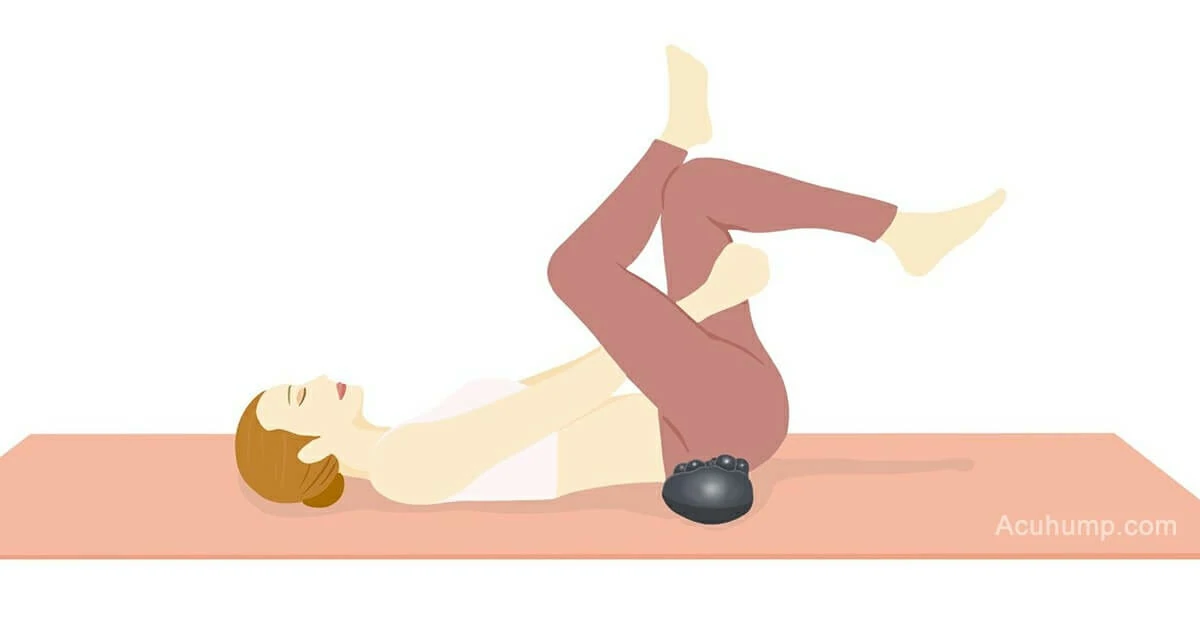 Hamstring Tendonitis Stretch Exercises And Massage
Sitting on the Acu-hump, extend both legs straight. Then, bend forward, trying to touch your toes with your hands as much as possible. Hold the stretching position for no more than 10 seconds. Slowly repeat this process three to six times.
Placement: Position the sciatica stretcher under the lower buttocks (the origin of the hamstring tendon), with the high side of the Acu-hump near the feet.
Duration: Twice daily, 5-10 minutes each session.
Target areas: Hamstring tendon, hip flexors, lower back muscles.
Acupressure massage: When the sciatica stretcher encounters tight muscles, as the muscle knots break, the sensation of pain may intensify.